Through a collaboration with Rockwood Chemical, the Dirt M.D. team has completed a carrot field trial in Imperial Valley, CA. We were able to show a 6.4% increase in yield on a 15 acre plot – resulting in nearly a 3 ton increase per acre.
(Click image to view PDF)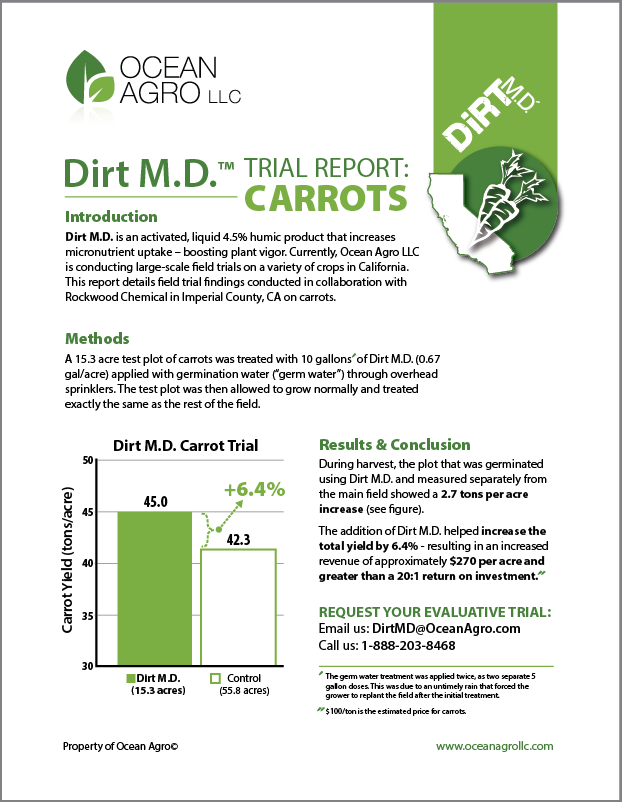 Text from report to increase accessibility
Introduction
Dirt M.D. is an activated, liquid 4.5% humic product that increases micronutrient uptake – boosting plant vigor. Currently, Ocean Agro LLC is conducting large-scale field trials in a variety of crops in California. This report details field trials conducted in collaboration with Rockwood Chemical in Imperial County, CA on carrots.
Methods
A 15.3 acre test plot of carrots was treated with 10 gallons* of Dirt M.D. (0.67 gal/acre) applied with germination water ("germ water") through overhead sprinklers. The test plot was then allowed to grow normally and treated exactly the same as the rest of the field.
Results and Conclusion
During harvest, the plot that was germinated using Dirt M.D. was measured separately from the main field showed a 2.7 tons per acre increase (see figure).
The addition of Dirt M.D. helped increase the total yield by 6.4% – resulting in an increased revenue of approximately $270 per acre and greater than a 20:1 return on investment.**
REQUEST YOUR EVALUATIVE TRIAL:
Email us: DirtMD@OceanAgro.com
Call us: 1-888-203-8468
*The germ water treatment was applied twice, as two separate 5 gallon doses. This was due to an untimely rain that forced the grower to replant the field after the initial treatment.
**$100/ton is the estimated price for carrots.